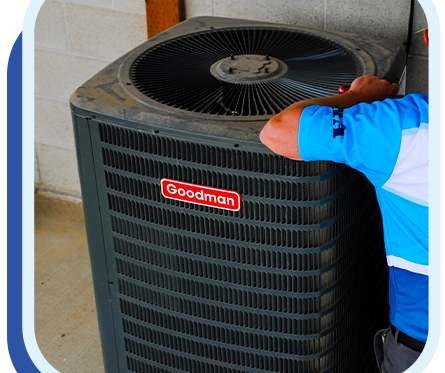 If you want your air conditioner to work efficiently throughout the year, you will need to schedule a maintenance service. When these components are not serviced, they can struggle to function, leading to skyrocketing energy bills and uneven cooling in your home. How often should you schedule a service for your air conditioner? Here are a few facts that you will want to know.
How Often Do You Need an AC Service?
You probably already know the importance of scheduling maintenance on your air conditioner, but how often should you have a technician come out to your home? Generally, you will want your air conditioner serviced at least twice a year. You should set up these visits in the fall and the spring. With that, you can ensure that the air conditioner parts are in excellent shape and ready for the upcoming seasons.
After the summer, a fall maintenance visit is an excellent way to check on the condition of the components. You can see if the system needs a tune-up or refill of fluids. Along with that, the technician can winterize for the upcoming colder months. A maintenance visit in the spring will ensure that the unit is ready for the hot summer season. While two visits might seem like a lot, they can help you maintain your system and avoid expensive repairs down the road.
What Is Included in an AC Service?
What happens when a trained technician services your air conditioner? Several things can affect the lifespan and efficiency of your unit. With that in mind, you want to make sure that it is ready to handle all of that work.
In most cases, the technician will inspect the parts. Some components are lubricated to ensure they move without any issues. The technician will take time to clean those parts, especially if there is excessive dirt or debris. This tech will inspect everything from the blower to the condenser. Additionally, the refrigerant levels are checked. If there is low fluid, then the technician will fill it up to the correct level.
You need the proper air and electrical flow to operate the air conditioner unit. The technician will make sure your system is delivering those proper levels. If something is not working, the specialist will bring those problems to your attention. On most visits, the technician will check the condenser drain. This area is one spot that can clog in the spring and fall. Often, mold and other debris can build up. When this drain is clogged, your air conditioner will not operate as efficiently.
Along with that, the technician will look at the home's thermostat. If it is not calibrated correctly, it may not be communicating with your outside unit. Often, the technician can reprogram or recalibrate this device. In short, a maintenance visit is a deep inspection of your air conditioner unit. With these visits, you want to ensure that the system operates as efficiently as possible.
Do You Need an AC Service Plan?
Many HVAC companies offer maintenance contracts or protection plans for their customers. The customers agree to pay a set amount of money in exchange for priority services with these agreements. With two maintenance visits per year, the customers can access priority service, discounted prices for parts, and more.
Should you think about a protection plan for your air conditioner? Take a look at a few benefits.
Priority Service
When you have an emergency, you will not have to wait. With a protection plan, you will get top priority over other clients. Some customers will have a guaranteed time window for the technician to show up at their homes. In addition to that, there may not be any fees or charges for these emergency services.
Discounts on Most Parts and Accessories
If you had a repair in the past, you already know that parts and accessories are not cheap. Some of these components can cost thousands of dollars. For example, if the compressor breaks, it is a high-cost item that you must replace, or the unit will not work. With some of these contracts, the customers can save on a few of those costs.
Regular Maintenance Visits
The best features of a protection plan are the regular service visits. In most situations, the company will offer two visits per year. With that, you can ensure that the unit is maintained and running efficiently. These bi-yearly inspections are essential for the efficiency of your system, but they can also extend its lifespan. These inspections will save you money in the short- and long-term.
Air Conditioner Maintenance Tips
Along with your bi-yearly AC service visits, you can provide maintenance to the unit throughout the year. One of the most critical tasks is changing the filter. When the air conditioner works, it collects all types of dirt and dust from the air. These filters will stop all debris from reaching your system's inner components. The unit cannot do its job if the air filter is dirty. You should change the air filter at least every other month. However, if family members have allergies or pets live in the home, you should change the filter every month.
The condenser drain is an important component of your system. That drain is located outside of your home. As a result, it is exposed to dirt, leaves, and other debris. Sometimes, overhanging greenery can jam the condenser, leaving you with high repair bills. Even squirrels, mice, and bugs can damage the components. To prevent issues with the condenser, ensure that the area around it is clear of debris. There should be at least a few feet of clearance on each side of the drain.
Most air conditioner units use a duct system to distribute the cooled air into the home. That air will pass through these ducts to cool down your rooms. These vents are positioned on the floors, ceiling, or walls. You will always want to watch out for any mold buildup near the vent. When there is excessive humidity in the air, it can create an environment where mold can develop in your vents. For those with a mini-split unit, you will have a blower unit instead of a duct. With that, remove the cover, take out the filter, and clean it.
You need to have your air conditioner serviced about twice a year. During these visits, the technician can inspect your unit and make sure that it is operating at an efficient level.
Need Air Conditioner Service in Boise?
Now that you know the importance of those bi-yearly air conditioner service visits, you will want to find the right company for the job. At [company name], we have been a trusted plumbing, heating, and cooling service provider in the Boise, ID, area. Our family-owned business has been helping customers with their home service problems since 2006. We have developed a reputation for providing high-quality customer service. Our technicians are trained to handle repairs, installations, and maintenance calls for your cooling and heating systems. Along with that, we offer indoor air quality checks, duct cleaning, and plumbing services. If you are ready to schedule a service visit in the Boise area, give Express Plumbing Heating & Air a call!